The Roof Damage Inspection Experts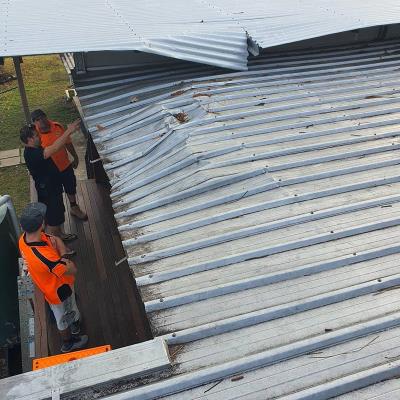 If you have received hail on your roof and suffered damage to other areas of your property, it's wise to assume that your roof is likely also damaged and requires a roof damage inspection to be carried out by a roofing company in order to pursue roofing insurance claims.
In such circumstances, when you're in need of Sunshine Coast or Brisbane roofing services, it's recommended to call your insurance company and ask them to raise a claim for your property.
This is the insurance claim process to follow:
Get a claim number from your insurance company.
Advise your insurer that you would like The Roofing Group to attend, to carry out the roof damage inspection and provide a comprehensive roof damage report.
Provide this roof report to your insurer after The Roofing Group has inspected your roof.
Await advice from your insurer to proceed.
Either engage an insurance builder as recommended by your insurer or contact The Roofing Group directly to conduct the roof insurance repairs as required.
When you're ready, get in contact with our residential and commercial roofing company to discuss your roof insurance claim and the required roof repair services needed. Our Sunshine Coast and Brisbane roofers are more than happy to help with all your roof restoration or re-roofing needs.
Call our roofers on 1300 780 079.